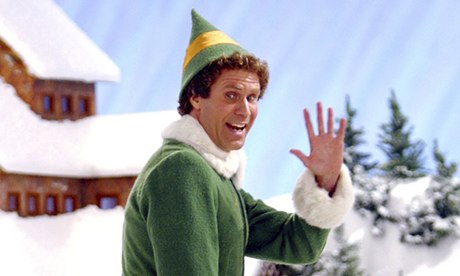 Elf / New Line Cinema
I am obsessed with the Christmas film Elf. Will Ferrell is hilarious in the film and he captures Buddy the elf's personality so well! I think I watch it about 10 times every year in December and I'm pretty convinced that Buddy is my soul elf. Is soul elf a thing? It is now! ...
Elf actually has some great life lessons we could all learn from in this day and age so, without further ado, I present to you the ten life lessons we all learn from Elf.
1. Always chase your dreams. Buddy's world comes crashing down when he realises he isn't actually an elf and is, in fact, a human. Despite this revelation, he decides to go after his dream of meeting his real Dad.
2. There will be obstacles along the way, but every goal is achievable. Buddy faces many obstacles along the way, but still nothing phases him. First of all, Buddy can't keep up with the elves and their extremely fast present crafting. Second, his Dad is on the naughty list and has been for a while. Third, once Buddy makes the journey to New York from the flipping North Pole (imagine how long that took?!) his Dad refuses to let Buddy into his life. Many setbacks, but still Buddy comes up trumps.
3. Sometimes you will feel like a cotton-headed ninny muggins... We've all been there. Some days we feel like crap. It happens.
4. ... but it's important to remember that everyone is special in their own way. We all have our own skills and talents, no matter what other people say. You might need to find your strength by changing your environment or lifestyle, but I promise you that there is something you are fantastic at!
5. Even your parents - who you might often consider to be cotton-headed ninny muggins. Parents are annoying, but not as annoying as Buddy's dad Walter. Walter is mean and rude to his family. He denies books to children. Santa has put him on the naughty list. Yet he still comes out at the end as a good man... we're all human after all!
6. It's always a good day when you meet a dog. Good news - I saw a dog! I love it when Buddy says this because that is actually something that happens to me on a daily basis. If I see a good dog, I know it will be a cracking day. Especially if it's small and fluffy. But any dog will do, I have no preference.
7. But not all animals want a hug. See a good dog? Ask the owners if the dog likes fuss. Growling at you? Do not proceed to hug. Even if he is the fluffiest thing you've seen. Don't do what Buddy does and hug an angry raccoon - you will highly regret it.
8. It's acceptable to live off sugar because it is the main food groups for elves. I always felt guilty about my excessive sugar consumption but Buddy says it's the main food group of elves and, let's face it, who doesn't want to be a Christmas elf making presents and baking cookies? Pass the syrup.
9. Santa Claus is real. I don't need to expand on this, do I?! Santa Claus is real. It says so in Elf.
10. The best way to spread Christmas cheer, is singing loud for all to hear. And, the best lesson of all from Elf, don't be a scrooge but embrace your inner festive elf and sing loud and clear every single Christmas song possible. I'm partial to Do They Know it's Christmas? (much to Nick's annoyance) but any festive jingle will do! You can't hate a jolly Christmas tune!